Live in Health Aide in West Palm Beach, FL
Licensed Practical Nurse (LPN) and Registered Nurse (RN) Skilled Nursing Care
With a live in health aide, your loved one can remain in the comfort of their own home and maintain their maximum level of independence by having one on one personal services readily available to meet their every need.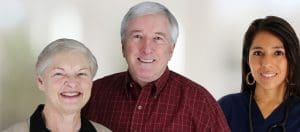 United Nursing Services home health aides give your family another option by providing hands-on care for the client including assistance with personal care, mobility activities, and elimination (toileting). We also provide socialization and transport of the client to diversional activities as well as assist with light housekeeping, laundry, meal preparation, and errands.
Services include:
Dementia / Alzheimer's care
Respite care
Daily living needs
Activity needs: Examples – Turn/position patient, dangle, assist/perform transfers, hands-on assistance with ambulation (with cane, walker, crutches, wheelchair activities)
Personal care needs: Bathing, showering, grooming (shampoo, shave, skin care, lotion, massage) dressing activity, oral hygiene
Elimination needs: Examples: Assistance toileting and use of bedside commode, bedpan, catheter care, empty/change catheter/colostomy drainage bag, check daily bowel movement, fecal/urine collection for testing.
Household needs: Examples – meal preparation / laundry, linen change, light housekeeping & grocery shopping.
Vital signs: temperature, pulse, respirations,  intake & output  of food and fluids, blood pressure monitoring
Range of motion exercises, ice & heat application (as ordered)
Home management and maintenance
Transportation to physician / errands
Live in Health Aide Services
One aide resides/lives at the client's home 24 hours a day. Criteria for live-in services:
Client must NOT require constant supervision to allow caregiver uninterrupted sleep
Caregiver must have a separate bedroom and bathroom
Companion Services
Companions provide socialization and transportation for the client to diversional activities. By law and as enforced by the State of Florida, a companion cannot provide hands-on care for the client. As per the client's request and time allotted, companions may also assist with light housekeeping, laundry, meal preparation, and errands.
Caregiver Screening
United Nursing Services caregivers undergo a strict screening process before they join the United Nursing Services team. Each caregiver receives a Level II background check with fingerprinting as required by the Agency for Health Care Administration (AHCA). As additional safety measures, United Nursing Services also checks driving records and drug tests each employee.
Our application, orientation and training processes United Nursing Services assures high quality employees to care for our clients.
To Learn More About Our Home Health Aides, Please Contact Us Today!
We encourage you to learn more about our home health care services by contacting one of our friendly representatives who will be able to walk you through everything you need to know to feel informed and confident moving forward.
For more information about our home health aides in West Palm Beach, FL, please call: 1-800-334-5140.