Working at United Nursing Services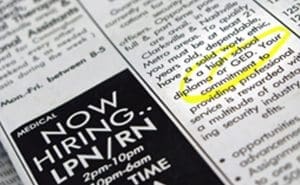 We want our caregivers to know they are valuable and essential members of our award-winning team. Each employee contributes directly to United Nursing Services growth and success.
United Nursing Services is an Equal Opportunity Employer, drug-free, smoke-free workplace. We are licensed, bonded, and insured.
United Nursing Services offers many opportunities in the health care field. Assignments consist of full time, part time, per diem, short- and long-term employment in home care, hospitals and nursing homes.
We offer assignments throughout Palm Beach, Lee, Collier, Charlotte, Sarasota, Glades, Hendry and DeSoto counties.
Are you ready for an exciting and rewarding career in health care? To respond to any of the job openings posted below, please carefully follow directions as requested to each specific posting.
CURRENT OPEN POSITIONS:
• RN                •  PT              • MSW
• LPN               •  OT             • Registered Dietician
• CNA              •  ST              • Registered Nutritionist
• PCA              •  OT
• HHA
Here are some of the steps United Nursing Services takes to guarantee qualified employees are hired and retained:
•  Employee competency is tested both in writing and hands-on
•  Professional license verification through the state's database
•  Review of professional references
•  Verification of work history
•  Minimum of 1 year supervised experience within the last 3 years
•  Current health screening required
•  Citizen/Immigration status verification
•  Current CPR certification verified
•  State approved training and continuing education in patients' rights and dignity, Alzheimer's disease, communicating with the cognitively impaired, preventing medical errors, infection control, patient confidentiality and HIPAA, HIV/AIDS, domestic violence and occupational safety.
Benefits of Working at United Nursing Services
United Nursing Services Home Health Agencies offer one of the best working environments for home health aides, certified nursing assistants, licensed practical nurses, registered nurses, physical therapists, occupational therapist, speech therapists, massage therapists and medical social workers in Palm Beach, Lee, Collier, Charlotte, Sarasota, Glades, Hendry, and DeSoto counties.
You are more than an employee at United Nursing Services; you are a valuable and essential member of our award-winning team. Each employee contributes directly to United Nursing Services growth and success.
If your work ethics combines compassion, commitment, integrity, professionalism, and you enjoy caring for others, we are interested in hearing from you. In addition to providing a positive and rewarding work environment, United Nursing Services also offers the following benefits to our team:
• Competitive wages
• Flexible schedules
• Full-time opportunities
• Mentoring program
• 401K
•  Weekly pay
• Workman's Comp, Bonding, Liability, Malpractice Insurance
• Bonus opportunities
United Nursing Services has immediate openings and is urgently hiring for the following positions:
Registered Nurse-Nursing Supervisor | RN/LPN
HHA/CAN | RN/LPN Private Duty
Immediate hiring is possible with the proper qualifications and documentation.
View full descriptions here: https://unitednursingservices.applytojob.com/apply
DOWNLOAD YOUR APPLICATIONS BELOW
Items required to apply for a position at United Nursing Services
– ALL DOCUMENTS MUST BE ORIGINALS –
United Nursing Services accepts applications Monday – Friday 9:00am – 3:00pm
UPON COMPLETION OF THE APPLICATION DOCUMENTS, PLEASE EMAIL THEM TO : tmatsuo@unitednursingservices.com
• One year SUPERVISED & VERIFIABLE experience under current license within the last 3 years. (CNA's must have worked within last 23 months to maintain their certificate.)
• Physical within the last 6 months stating you're "Free from Communicable Disease"
(The above must be on letterhead or our form.)
• Current Florida Driver's License
***** MUST be able to drive and own a car  *****
• Proof of Auto Insurance
• Original Social Security Card
• Resident Alien Card, if applicable
• Current CPR Card
Level II Background Screening
Two professional References (Name and Phone Numbers) that you have worked for/with for at least 3 months.
Must be a physician, RN or LPN
CEU/In-services (must be from a licensed provider):
All Applicants: HIV, Domestic Violence, Alzheimer's Disease, Preventing Medical Errors, Infection Control, OSHA, HIPPA
CNA/HHA applicants require "Assisting with Medication"
New Additional CNA/HHA CEU Requirements:
1) Documentation,
2) Legal Aspects and Ethics,
3) Patient Rights and Dignity,
4) Communication w/Cognitively Impaired Patients
All above In-services are available through United Nursing Services. Employees must maintain CEU requirements as required by the State of Florida.