Respite Care from United Nursing Services
Our Respite Care services are totally customizable to your needs. We can give you a short break lasting one hour or schedule care for as long as a month or more. We work to accommodate the times you need off.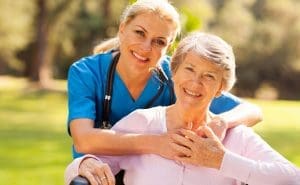 We treat each of our patients as if they were our own parent. We'll keep your loved one on the same routines and schedules that you've established so their transition with our staff is seamless and comfortable.
Treatment Needs:
Checking vital signs (temperature, pulse, blood pressure, respiration)
 Ice bag/heat treatments as ordered
Intake and output of food and fluids
Elimination Needs:
Restroom and bedside commodes/bedpan assistance
Catheter care
Empty/change colostomy drainage bag
Checking daily bowel movements
Collecting  feces/urine for testing
Safety Needs:
Medication assistance
Status reports on mental/behavioral/physical changes
Maintaining safety precautions (remove items that could be tripped on, use of side rails/transfer belt/support bags)

We also offer the following in-home rehabilitation services for those in need of:
Speech therapy
Physical therapy
Occupational therapy
Massage therapy
Respiratory therapy
High Quality Care
Providing high quality home care is just one of our missions at UNS, and it's something we don't take lightly. We provide top-notch care right in the comfort of your own home so your loved one can remain at ease. Our highly trained team will give you peace of mind that your loved one is receiving the same personalized care that they would have had with you.
To ensure that your loved one is in good hands, our team members must:
Have a minimum of 1 year supervised professional experience
Provide references from at least two medical professionals
Pass an extensive background check by law enforcement agencies
Pass random drug screenings,
Speak, read, and write fluently in English
Successfully complete orientation concerning agency policies, along with both verbal and written screenings, and hands-on competency testing.
In addition to providing your loved one with an experienced team member, we also try to focus on partnering the right caregiver with the right patient. That's why we look for aides who are also compatible with your parent on a personal level. This way they can build a positive, long-lasting relationship together. It also makes certain that your loved one is comfortable and well-taken care of.
Our team is licensed and insured for your protection. (Insurance summary provided upon request.)
We've made it our mission at United Nursing Services to provide only the highest quality of home care. We treat each of our patients as if they are our own parent. Unlike overcrowded facilities, your loved one will enjoy the one-on-one attention and personalized care they deserve.
To Learn More About Our Respite Care Services, Please Contact Us Today!
We encourage you to learn more about our elder care services by contacting one of our friendly representatives who will be able to walk you through everything you need to know to feel informed and confident moving forward.
For more information, please call: 1-800-334-5140 for Palm Beach county inquiries.